The Network for Protection against Discrimination and the Commission for Protection against Discrimination held a press conference on April 11, 2023 in which they raised the alarm about the problem with the right to a paid pregnancy, maternity and sick leave that women farmers are entitled to, which constitutes an issue of discrimination and unequal treatment.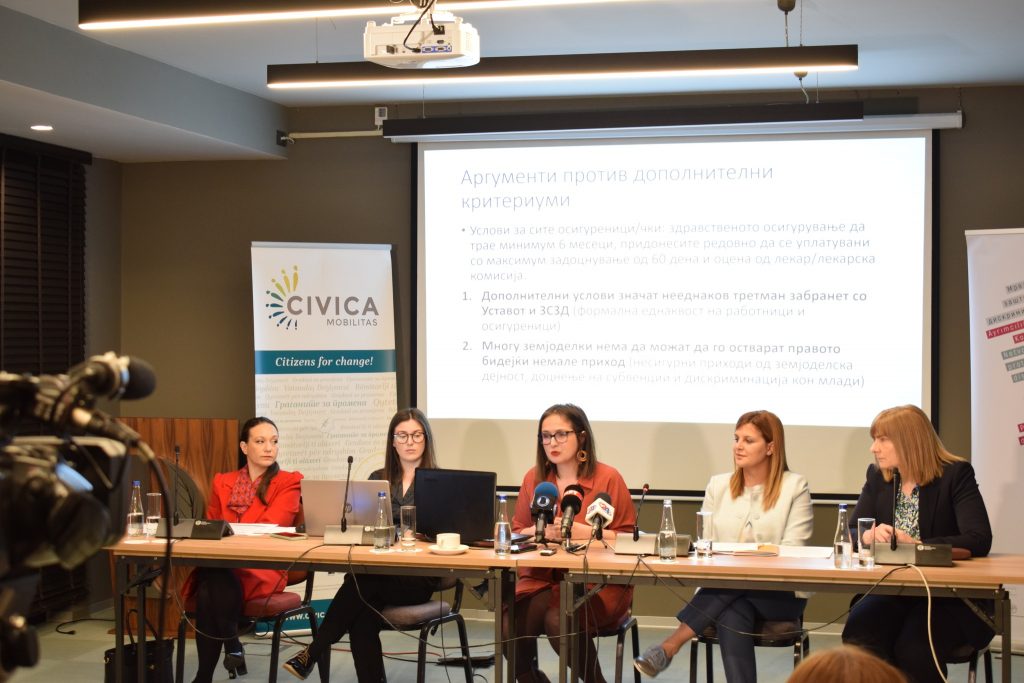 Marina Tosheska from LAG Agro Leader pointed out that although the issue has been in the public eye for several years, an appropriate solution is yet to be adopted. She said: "Most often when we talk about farmers we think of subsidies, but we never think about whether these people really have access to rights or to what extent they are in fact lost in the labyrinths of our legal regulations. They are the ones who are not a burden to the budget, they pay their own pension and health insurance, they produce food for all of us, and they cannot exercise any of their rights according to the LLR (Law on Labour Relations), they do not have paid sick leave, they do not have the right to an annual holiday leave and they do not have the right to a paid maternity leave". She went on: "Women farmers work between 11 and 16 hours a day, depending on what agricultural activity they are involved in, and they have no right to a paid maternity leave or a paid sick leave, and it is much more difficult for them to even access social protection rights. We have singled out the right to a paid maternity leave for women registered as individual farmers as a priority, which is compounded with their inability to exercise the right to paid leave due to illness or injury thus constituting inequality in the access to rights for women farmers compared to women workers from other areas". Tosheska pointed out: "If we take a deeper look at the Law on Health Insurance, we will see that despite the fact that individual farmers are health insured - they are granted this status pursuant to Article 5; Article 14 which regulates the rights to compensation (remuneration) during absence from work due to pregnancy, birth and motherhood, leaves out individual farmers from the broad list of participants it covers - they are not included. According to the data of HIF (Health Insurance Fund), in 2021, 17,233 active farmers were recorded as included in the mandatory health insurance, and according to the latest data from the Ministry of Health, according to the Law on Pension and Disability Insurance, in 2022, 1,075 women were recorded as having the status of individual farmers. These 1,075 women are unable to access the right to a paid maternity leave".
Anastasija Muratovska from the Commission for the Prevention and Protection against Discrimination announced that the CPPD issued an opinion stating that they had noted indirect, intersectional and prolonged discrimination against women individual farmers as health insurance holders in exercising their right to a compensation during the absence from work due to pregnancy, childbirth and maternity - the right to a paid maternity leave. She added: "The same opinion also found indirect, prolonged and intersectional discrimination against individual women farmers and individual men farmers as health insurance holders, in exercising the right to a monetary compensation during temporary incapacity for work due to illness or injury - the right to a paid sick leave. They exercise their rights to health services, but they are unable to exercise their rights to paid benefits on equal grounds with the other insured persons. There is unequal treatment of individual farmers compared to other health insurance holders, who, in turn, fully exercise their health insurance rights. Excluding individual farmers from the right to paid maternity leave and the right to paid sick leave contributes to further marginalization of this group of workers". Muratovska also emphasized that: "The Commission has the legal obligation to follow up on the issued recommendations, and the monitoring of the recommendations is not to be carried out only in form, but in essence, in order to ensure that the unequal treatment has been removed, meaning that the solution to these problems must not be discriminatory. I am not mentioning this by accident, but because during this procedure, at the proposal of the Ministry of Agriculture, Forestry and Water Economy, the Government adopted a Program for Social Security of Women Engaging in Agricultural Activity. This Program, as an ad hoc solution, provides financial assistance for individual farmers who have the status of health insurance holder in case of a temporary incapacity to undertake agricultural activity due to childbirth. However, setting off from the fact that the right to paid maternity leave is a basic human right that should be legally mandated, this Program is neither a permanent, nor a sustainable solution. The program is limited in the scope of its duration and funding, which prolongs the uncertainty in the exercising of the right to a paid maternity leave among women farmers and creates legal uncertainty. Despite the existence of this Program, the Law on Health Insurance would continue to generate discrimination".
Dragana Drndarevska from Coalition MARGINS said that a systemic solution would bring long-term economic benefits to the country. She added: "Currently we have a legal solution that does not incentivize women to get registered and as such they remain among the (economically) inactive population. By being granted more rights as holders of the status of an individual farmer, women would be motivated to register, which in the long term would result in them gradually transforming from inactive to employed population, and their income - from income generated through the informal economy - to income that would be subject to taxation and would flow into the formal economy". Drndarevska pointed out that: "HIF is the best-positioned institution to administer and exercise this right, unlike the Government Program which would entail greater risks of abuse - the HIF system is much more stable and sustainable. The existence of a Program does not guarantee reliable implementation of the measure. There are numerous Government programs that have either not been implemented or have been partially implemented. The state should move towards enabling paid maternity leave as a more universal right, regardless of the categories of women in question. This right should be available to all women workers, women farmers, self-employed persons and their partners. We need to harmonize the EU directive in the national legislation and of course move towards recognizing unpaid domestic workers as holders of this right as well".
Maja Morachanin from the Democratic Reconstruction of Macedonia stated: "I really believe that we must find a systemic legal solution so that individual farmers can exercise their rights to a paid sick leave and paid maternity leave. I absolutely agree that if people who live and work outside big cities feel discriminated against and cannot exercise their basic rights compared to other workers - then we cannot achieve balanced regional development, rural development and development of these areas".
Rashela Mizrahi from VMRO-DPMNE stated: "Everything and anything in the world is being subject to analysis nowadays, including the lack of paid leave due to pregnancy and childbirth, which contributes to an increase in impaired mental and physical health of mothers and physical health of newborns; which increases the possibility of domestic violence, increases infant mortality and leads to tension and irritability within the family. The consequences to the health of mothers who go through this distress consist of hospitalization during the first year after childbirth in 51% of cases, and this also applies to the newborns who are re-admitted to hospitals in 47% of the cases if there is no compensation (source of income) within the family that would cause or sustain the stability of the family itself". Mizrahi noted that: "The Program for Social Security of Women Engaging in Agricultural Activity is discriminatory by default. It obliges women farmers to have an income between 100,000 and 300,000 MKD and requires that 12 months of prior work must be taken into account in the compensation calculation, unlike the 6 months of work applying to all the other workers. It does not take into account that people may have high-risk pregnancies, problematic pregnancies, that they may take days off, that natural disasters can lead to shortages on a particular year, and finally a calculation is made that is closely linked to the budget items – which stipulates a '9000 MKD compensation for those that are registered'".
The press conference was organized within the framework of the project "Visible, United and Loud - Action for Equality and Non-discrimination through Participation and Multi-sectoral cooperation" implemented by the MARGINS Coalition, the Macedonian Young Lawyers Association, the Helsinki Committee for Human Rights, LAG Vardar Leader and The Commission for Prevention and Protection against Discrimination within the framework of the Civica Mobilitas program.
Skopje, 11.04.2023
Contact person:
Dragana Drndarevska 078 200 675 e-mail: dragana.coalition@gmail.com